Tony was born in the United Kingdom into a family that was always doing something with wood. For as long as he can remember, he would help, although at that time getting in the way would be the more appropriate term.
This early passion for wood paved the way for his first apprenticeship when he was 12. Each day after school he would observe, listen and help craftsmen as they demonstrated their work.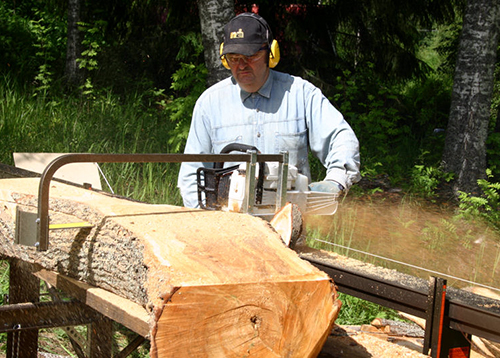 One thing that stuck in Tony's mind is the love for the story that the wood tells. The way nature influences trees to shape a unique grain that promotes the value of both the raw material and the finished work it becomes a part of.
This love led to a teaching position when he moved to Finland at VOP-Käsityö, Hämeenlinna in 2003. Although in Tony's mind, the learning never stopped as he paid careful attention to local knowledge about timber and traditional techniques of the craft. On occasion, he would even venture out into the woods to find a really excellent tree. He would then cut, saw, and dry his timber.
It's in Finland where Tony met his Partner with whom he's been happily together for more than 18 years now. They moved to Belgium in 2010 and Tony decided to continue his craft here as a full-time business.
Every item is crafted to specification. It's unique, no two are alike.

Tony
Meanwhile Tony has been working with wood for over 45 years. Crafting both furniture as well as remodeling shops and houses. He is most passionate about furniture from the 18th to the 20th century, although he is open to projects from other centuries as well. When possible Tony tries to use locally sourced timber, such as Alder, Aspen, Black Cherry, Bird Cherry, Ash, Maple, Elm, Lime, Silver Birch, Rowan, Black Walnut, Oak and tropical hardwoods when required.